Kenevo
---
Benefits at a glance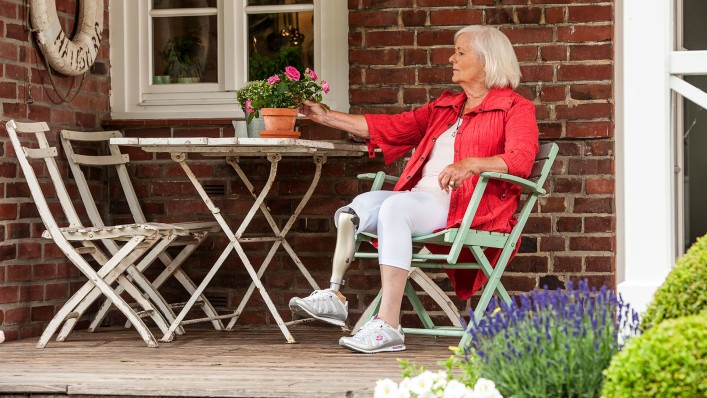 Supported sitting down
The Kenevo automatically detects when you sit down and assists you. Even if your movement is slow, you stay in control, because the joint bends accordingly slowly. This feature makes the Kenevo a very stable leg prosthesis. You can hold on to the chair or a walking aid with your hands while sitting down.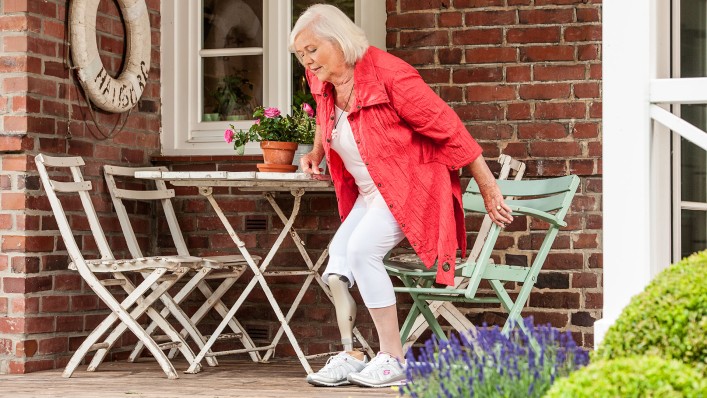 Supported standing up
It is possible to put weight on the Kenevo while standing up. Even if you need to pause again, this is not a problem – the leg prosthesis reacts immediately and allows you to pause with the knee flexed. This is a function for balance and stability.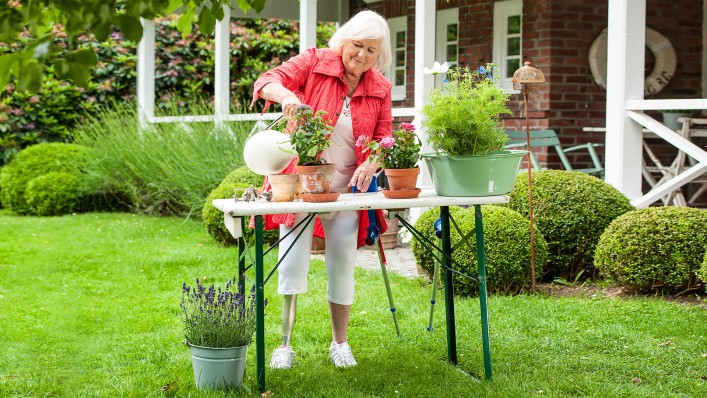 Stance function
The Kenevo provides the greatest possible safety while standing, regardless of the selected activity mode. In activity modes A and B, safety is provided by the locked stance phase. The stance phase refers to the moments where you stand on the floor with the prosthesis. In the more dynamic activity mode C, stable standing is possible even with the knee flexed, thanks to the intuitive stance feature.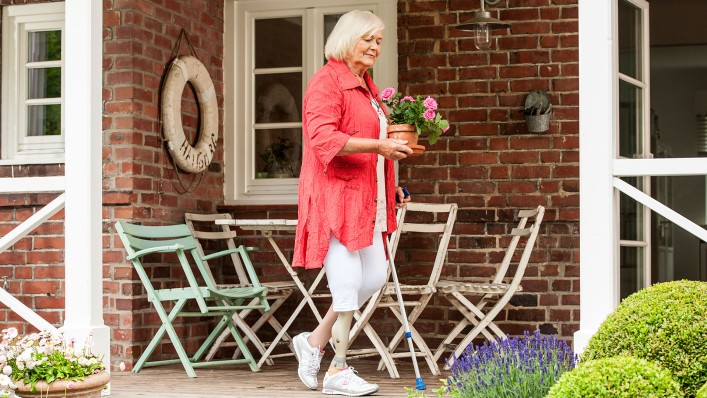 Enhanced safety
The swing phase refers to the part of walking where the prosthesis swings through during the heel-to-toe rollover of the other leg on the ground. With its reliable stance release, the Kenevo provides you with sufficient ground clearance when taking small steps and walking slowly, even when using walking aids. With stumble recovery Plus, the prosthesis recognises when you stumble and are at risk of falling or when you stop a movement. The knee joint then switches immediately into a high flexion resistance. All this ensures a high level of safety.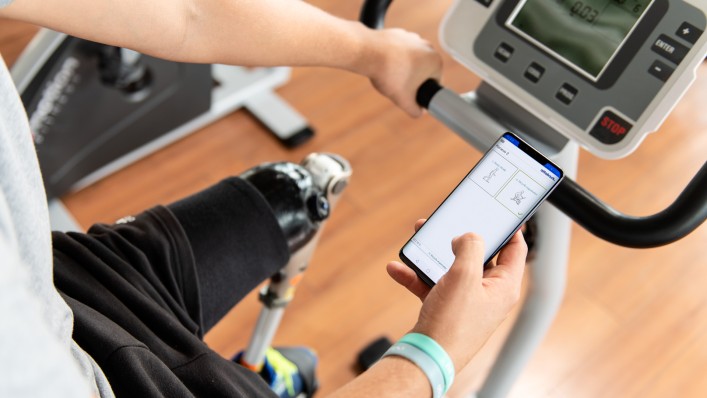 Intuitive indoor bicycle function and Cockpit app
You can configure several settings of the joint using a smartphone with the Cockpit app. For example, you can activate the intuitive indoor bicycle function.
With the intuitive indoor bicycle function, you can train intuitively on an indoor bicycle. As soon as you sit down and make pedaling movements, the Kenevo automatically switches to non-damped mode after a few revolutions. The joint switches back to "normal" activity mode automatically when you get off the indoor bicycle.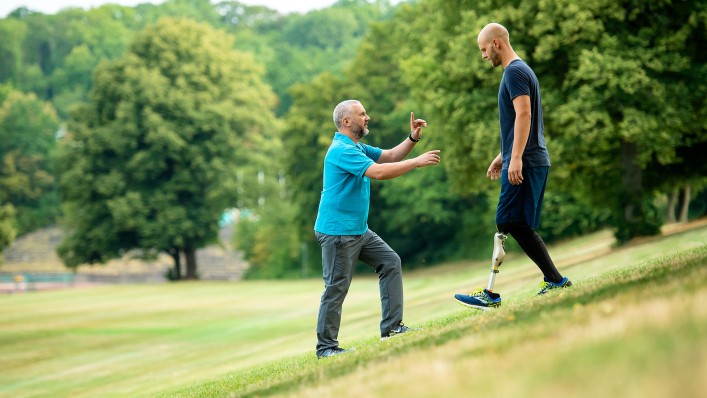 Assisted descent of ramps
A new function of the Kenevo provides intuitive support while walking down ramps. This improves stability and can support your mobility, both indoors and out.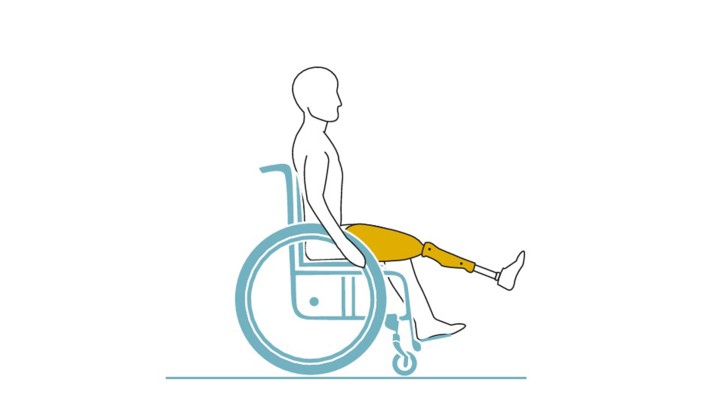 Wheelchair function
Thanks to additional ground clearance, the Kenevo also facilitates sitting in a wheelchair. With only one hand movement, the prosthetic knee joint can be locked between a slightly bent position and an almost fully extended leg. This prevents the leg prosthesis from getting caught on the ground.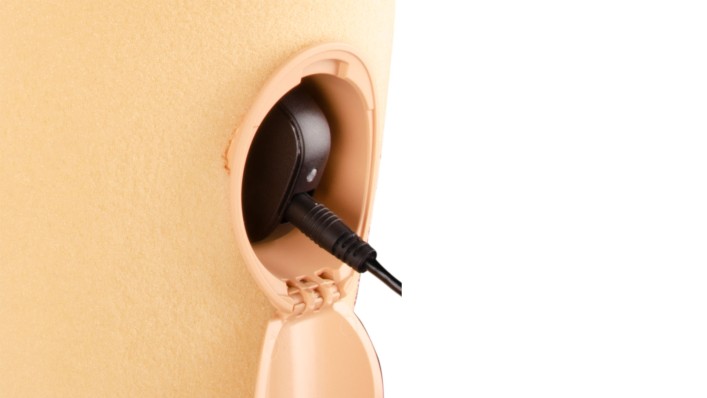 Additional benefits in everyday life
The Kenevo can now be charged conveniently without removing the foam cover. In addition, a new donning function makes the prosthesis easier to put on thanks to complete flexion of the knee joint. This makes day-to-day life easier and leaves more time for important things.
User experience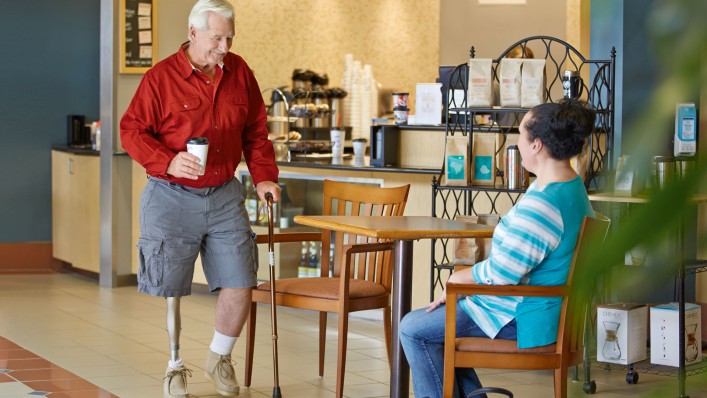 Bob and his Kenevo
Bob's greatest passion is his cars. Organising his day flexibly and independently is important to him. To help with this, the Kenevo provides Bob reliable safety with each step.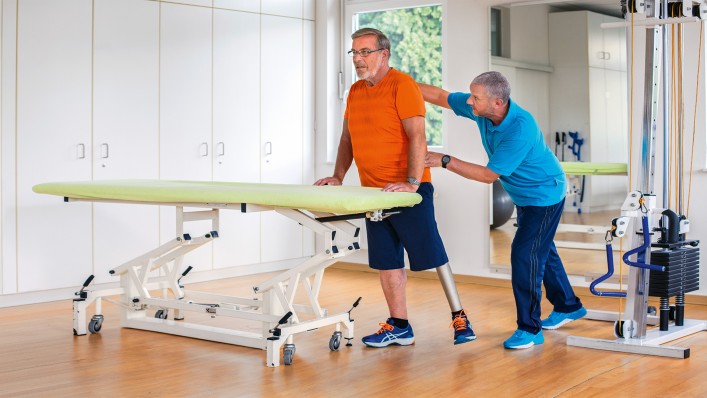 Detlef and his Kenevo
Detlef is most comfortable at home, but he loves his walks and never misses one. He loves watching his grandson play football. He felt very uncertain after his amputation due to his age, but the Kenevo showed him that he can put his confidence in a knee joint. It is reliable and gives him safety in his everyday life, with every step he takes.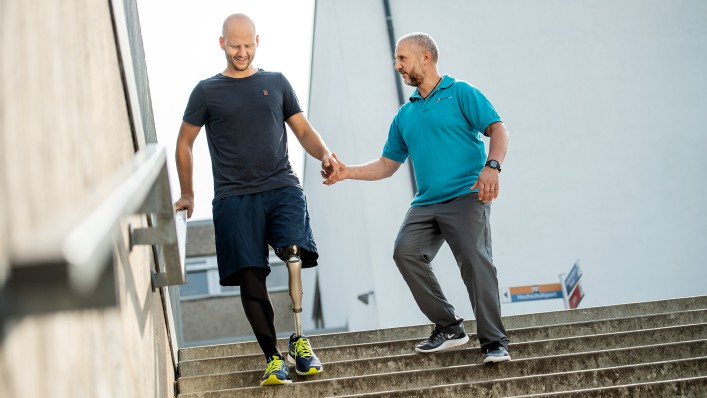 Michael and his Kenevo
Michael made the most of his rehabilitation with the Kenevo – placing his confidence in the knee joint was the biggest challenge at first. Together with his physiotherapist, Michael learned to navigate stairs and uneven surfaces step by step. Today, Michael wears a Genium X3. He works as a logistics specialist in a production facility and enjoys doing sports with his wife and friends.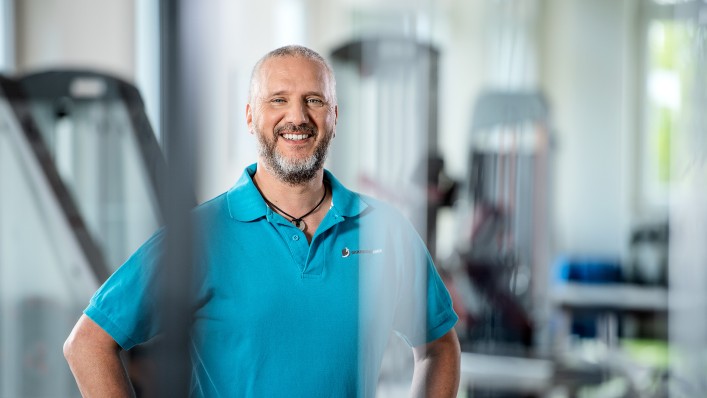 Markus, rehabilitation physiotherapist
"The Kenevo is ideal for rehabilitation because I can let this knee joint grow with the patient. Thanks to its three activity modes, it supports the patient and their needs on a completely individual basis."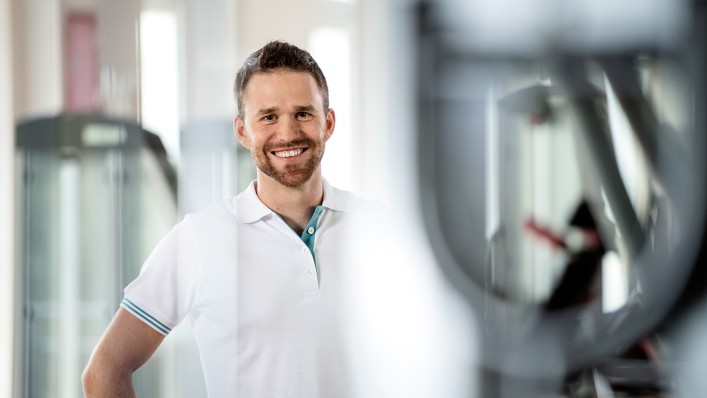 Christian, O&P Professional
"Safety is the most important thing for the patient directly after the amputation. The patient has to be confident that they can rely on the prosthesis."
Functionality
The Kenevo has three activity modes. This gives it an extraordinary ability to adapt to your individual needs and developing skills, for example, during rehabilitation. Your O&P professional adjusts the activity mode suitable for you on the knee joint.
Mode A: locked mode
In mode A, the Ottobock knee joint is locked and does not initiate a swing phase. Thus the Kenevo, as a stable prosthesis, provides high safety and does not allow unexpected movements.
The locked mode is thus especially appropriate if you have little control of your residual limb, mostly walk only short distances indoors and sit most of the time.
Mode B: semi-locked mode without stance phase flexion
In this mode B, the joint is locked during the entire stance phase. It is released for the swing phase when you start the pendulum movement of your leg. This is largely independent of your gait pattern and whether you are using other walking aids. The Kenevo always initiates the swing phase at the right time.
This activity mode is especially appropriate if you have average control over your residual limb, travel short distances and walk slowly.
Mode B+: semi-locked mode with stance phase flexion
This activity mode corresponds to mode B, but is supplemented by stance phase flexion at heel strike of up to 10°. That may sound technical, but for you it mainly means that you can walk on moderate slopes. As soon as your heel hits the ground, the knee joint bends slightly. This results in a movement that looks more natural.
This activity mode is suitable if you have already built enough confidence in your prosthesis in order to walk with stance phase flexion.
Mode C: yielding mode
You achieve an even more natural gait along with a high level of safety in yielding mode. In contrast to the other activity modes, the stance phase is not locked in mode C, but exhibits a high level of damping. This supports you when walking on uneven ground, ramps and stairs with the transfemoral prosthesis. The swing phase can be initiated earlier, which facilitates the more dynamic movements.
Activity mode C is suitable for you if you have moderate control over your residual limb, are able to deal with various everyday situations and can cover short to medium walking distances outdoors.
---
Similar products